We decided to throw out some questions to some of our July sponsors. Here is a little more about them!
Meet the adorable Mrs. White: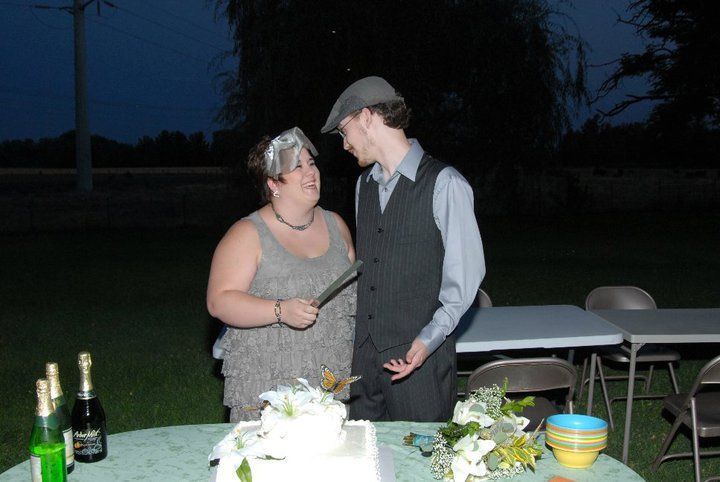 So, Tell me about your blog/shop?
My blog is something that is rather niche-less. I'm not even sure what 'lifestyle blog' is supposed to mean, though I know I started out towards craft & DIY. But I've found it really satisfying to share what's going on in my life, and going on in my head, oftentimes to the detriment of my dignity. I also love to share graphic design that I work on [mainly blog design], and my shop, where you can find out how to get one of your very own. :) Or e-mail me for more precise questions/details on it.
Who/What inspired you to start your blog/open your shop?
What inspired me to start blogging was the fact that I was newly married and, at the time, a stay at home wife. I didn't have chillin's to take care of, so I decided to occupy myself with crafting. I stumbled upon some craft blogs that I absolutely loved, and decided to try it out myself. I used to be 'that's all I'm gonna do' but with what my focuses have changed in my life, so has my blog evolved along with me. As for my shop, I was inspired to open that as kind of a test. To see if people would actually want to pay me for my design services. I'd done a lot of free stuff on the side for a while, but it was actually quite amazing how many people were willing to pay for a piece of me. I also believed that people on a budget should have the opportunity to get something beautiful as well.
What is your favorite post/item in your blog or shop?
HMmmmmm. That's really hard. I'd have to say my favorite post would probably be either the post I wrote for my husband's birthday recently, or going further back, probably this post that was kind of my first time I felt like I could really share me and it got a really great response. My favorite item in my shop is actually one no one seems interested in, but it's a premade layout that's a fifties diner theme. It's really fun in my opinion!
Name a list of your top 5 favorite blogs or shops?
Another tuffy! Jeez louise. Okay, in no particular order of preference: Imprintalish, The Dreamy Meadow, The Funny Thing of it is, aunie Sauce, and I Never Really Told You.
Do you have any tips for new bloggers or shop owners?
Hmmm new bloggers. I'd have to say do you. It's kind of something everyone says, but it's the truth. Do what you want, regardless if it's popular or if it's what the 1209338 follower bloggers do. Blog to make yourself happy, or relieve stress, or connect with others. Don't be afraid to reach out, because you'll be surprised [pleasantly] with how friendly the rest of us are. For new shop owners (which I still am mind you), I'd have to say word of mouth is a beautiful thing. Never underestimate it. That and customer service. I've worked in it all my life, and I'm a fairly charismatic person, both in type and in person [so I'm told], and it's what I get complimented on and recommended for all the time. Taking the time to be accommodating and pleasant to the people paying you their money seems like a no brainer, but it does help a lot!
Thank you so much for sponsoring our blog this month, and we hope to have you back next month! Please visit the links below to see Mrs. White's wonderful sites.