Lately I havent thrifted much, Im really enjoying the fall weather, and preparing for some great activities in the future weeks. I didnt have much of a turn out from my last weeks "
Fall Craft Link Up
" Im hoping that I do from the next one that I set up. I have tons of fun stuff planned and hope you guys can add your fun crafts to it! Hey, it doesnt even have to be a craft, making pumpkin cupcakes, thats fall related, and handmade! See, im not picky!?
So anyways, lets move on to the thriftyness. I know you guys are waiting to see what I found. I have always wanted a globe, one that matched, that was neutral colors, and wasnt plasticky. Is that a word?
So behold!
I know the pictures arent the BEST but, you can see the wholesome goodness, and a sneak peek of our home and my owl and camera collection! Today I linked up to
Lara's Vintage
, holy smokes Ive never seen Sandra's Page before, but im in love!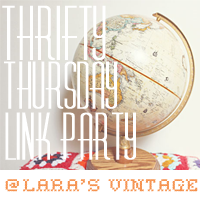 What did you find this week?